| | |
| --- | --- |
| Posted by morninglanddairy on August 23, 2010 at 5:35 PM | |
I just found out I could ad pics to the blog!  Yes I know, I'm slow......So here goes.
Eight bred heifers are now running with the dairy herd as those who read this blog will know . They start calving at the beginning of September. They are learning the routine and learning to go through the dairy barn like civilized cows. Since they haven't had grain in about 9 months, they are also re-learning to eat a bit of grain preparatory to their calving. They aren't sure they like it yet.
For the first two weeks, they wouldn't come any nearer to the barn, than the bottom of the holding pen. Then we managed to shove a couple into the barn and they discovered that it didn't eat them. By the end of about four weeks, they were all walking through the barn at the end of milking. Now, they are all getting locked in for a few minutes at a time so that they get used to just standing in the barn. Most are very calm about it. A couple think that something fishy is going on.
#808 is our star. She loves the barn, loves the feed, and is now accustomed to getting sprayed with teat dip before leaving the barn. Because she is so calm, she gets to come in the front, a position most heifers do NOT like.
Most of these girls are springing, some are obviously due later.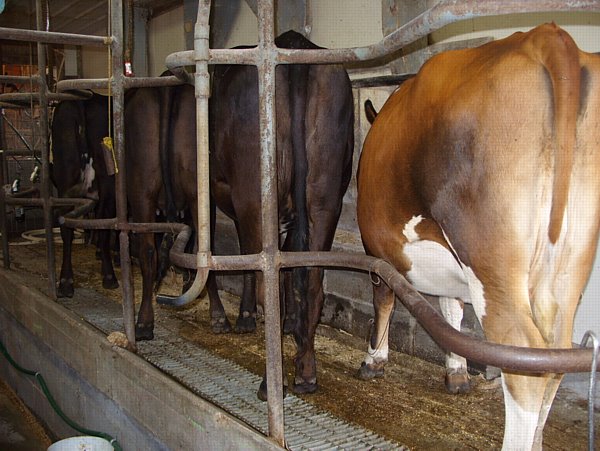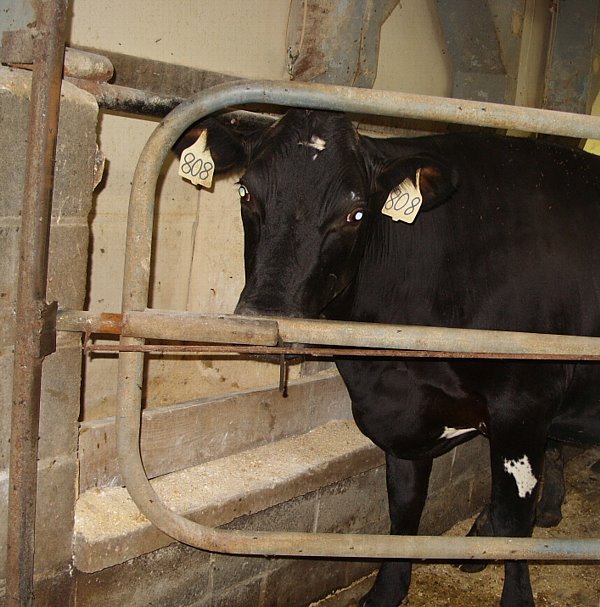 Remember this girl?  She was the last calf born in late June. All other calves were at least two months older, so we decided to leave #009 with her mother, instead of bottling her. Here she is, barely 8 weeks old, and HUGE. No grain, just mamas milk and pasture. She thinks she is a big girl and should get to walk through the barn at the end of milking too. We train our girls young........LOL!!
Forgive the dirt. She lays in the holding pen and chews her cud while we milk.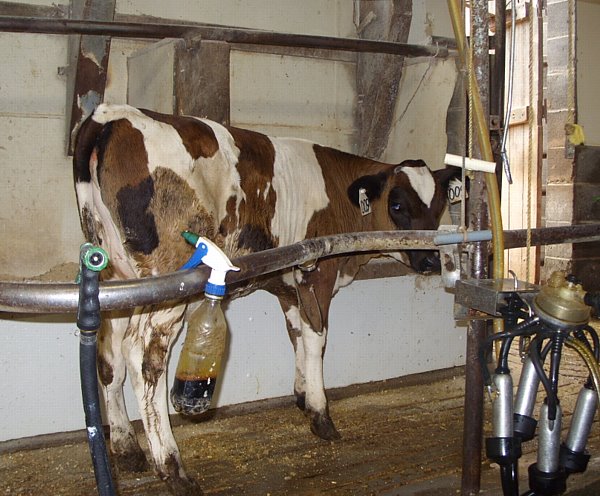 Now that I know I can add pictures......you can expect me to blog more often.  I am a picture fanatic!